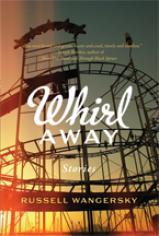 Transatlantic congratulates Russell Wangersky for winning the prestigious 2013 Thomas Head Raddall Atlantic Fiction Award for Whirl Away, the same collection that was shortlisted for the 2012 Scotiabank Giller Prize. Four stories in the collection have been optioned for film.
Whirl Away, published by Thomas Allen Publishers, is award-winning Canadian writer Russell Wangersky's fifth book. Russell Wangersky's memoir, Burning Down the House, was the winner of the 2009 BC National Non-Fiction Prize, the Rogers Cable Non-fiction Prize (NL) and the Edna Staebler Award for Non-Fiction. It was also chosen as a Top 100 Books of 2008 by The Globe & Mail, and was shortlisted for the 2008 Writers Trust Award. Wangersky's short story collection, The Hour of Bad Decisions, was longlisted for the 2006 Scotiabank Giller Prize and shortlisted for the 2006 Commonwealth Writer's Prize.  He is also the author of one novel, The Glass Harmonica. He lives and works in St. John's, Newfoundland.
Thomas Head Raddall Atlantic Fiction Award was established by the Writers' Federation of Nova Scotia and the Writers' Development Trust to honour the achievement of Thomas H. Raddall and to recognize the best Atlantic Canadian adult fiction. The $25,000 prize is offered annually. Previous recipients include David Adams Richards, Wayne Johnston, Kathleen Winter and Michael Crummey. The 2013 award was presented at a gala celebration on September 21, 2013.
More information about the WFNS Literary Awards can be found
http://writersns.hosting.ca/competitions/wfns-book-prizes.html
Share: