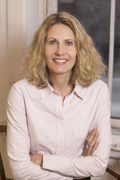 TORONTO —  David Bennett, President of the Transatlantic Agency, has announced a new management structure for the company. The day-to-day management of the agency will now be handled by a management committee, to be chaired by Samantha Haywood. Haywood, a long-time partner and shareholder in Transatlantic, will become Vice-President of the company. The management committee will be comprised of a core group of Transatlantic agents and administrative staff, with others rotating in as their expertise is required. David Bennett founded the Transatlantic Agency in 1994 and wishes to reduce his administrative workload. Said Bennett, "this new structure draws on the talent and experience of our longest serving senior agents and promotes their greater involvement in guiding the future of the company. Samantha Haywood has always led by example, and will contribute the energy and vision necessary for the company's continued success."
Said Haywood, "I have committed the last decade of my career to growing my client list at Transatlantic and look forward to leading the company through this new, exciting phase of growth."
Haywood launched her client list with Transatlantic in 2004. Prior to joining the Agency she worked in the foreign rights departments of Random House of Canada Ltd. and at WCA Ltd. She lives in Toronto with her husband Pieter Swinkels, EVP Publisher Relations & Content of Rakuten Kobo, and their two children.
About Transatlantic Agency:
For more than twenty years the Transatlantic Agency has been the umbrella for a vibrant collective of independent publishing professionals with diverse backgrounds and specialties. Its 250+ clients make regular appearances on notable bestseller lists across North America and around the world and regularly win major awards both domestically and internationally.
Share: