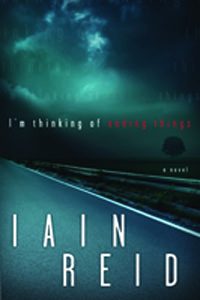 The hugely anticipated philosophical thriller I'M THINKING OF ENDING THINGS by Iain Reid is launching today. Wishing Iain a very Happy Book Birthday! This haunting read is released today by Scout Press, Simon & Schuster Canada, and Text Australia & UK! (Full rights sales below) We couldn't be prouder of Iain and keep your eyes out for more news in the coming days!
Indie Next Pick for June
Amazon SPOTLIGHT PICKS list for June
CBC 5 Books To Read in June
Newsdays list of Best Summer Reads
Globe & Mail's List of Most Anticipated Books of 2016
Check out Iain's interview on NPR here:
http://www.npr.org/2016/06/12/481750699/in-debut-thriller-novel-iain-reid-delivers-shivers-without-reader-knowing-why
"Nonfiction author Reid (The Truth About Luck) fuses suspense with philosophy, psychology, and horror in his unsettling first novel set in an unspecified locale. Capped with an ending that will shock and chill, this twisty tale invites multiple readings." -Starred Review, Publishers Weekly
"Reid's tightly crafted tale toys with the nature of identity and comes by its terror honestly, building a wall of intricately layered psychological torment so impenetrable it's impossible to escape." -Starred, Kirkus Reviews
"The construct of this book is brilliant and unusual and should appeal to fans of psychological thrillers, as well as to some horror fans. A dark and compelling debut novel, it is a most uncomfortable read but utterly unputdownable." -Starred Review, Booklist
"This slim first novel packs a big psychological punch with a twisty story line and an ending that will leave readers breathless." -Starred Library Journal Review
Rights Sold: Scout Press, S&S US, S&S Canada, Text Publishing UK & ANZ, (simultaneous publication in English in June 2016), Rocco Brazil, Presses de la Cite, France, HaKursa, Israel, Lindhardt og Ringhof, Denmark and WeLearn, Thailand.
Share: