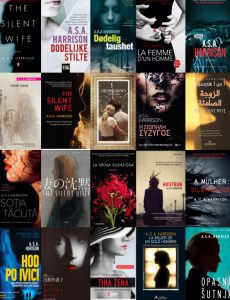 On June 25th, 2013, THE SILENT WIFE, ASA Harrison's debut psychological thriller was published in North America by Penguin Books US and Penguin Canada before taking the world by storm. We are absolutely thrilled to share that THE SILENT WIFE has just sold in its 35th territory – a staggering accomplishment! To date the territories include the following:
UK & C (Headline Book Publishing), Canada (Penguin Canada, co-pub with Penguin US), Arabic (Arab Scientific Publishers), Bahasa Indonesian (Noura Books), Bulgarian (Ciela Norma), Simplified Chinese (ThinKingdom Media Group), Complex Chinese (The Eurasian Publishing Group), Croatian (Znanje d.o.o.), Czech (Pavel Dobrovsky), Danish (JP/Politikens Forlagshus), Dutch (The House of Books), Estonian (Eram Books Ou), French (Librairie Générale Française, Le Livre De Poche), Georgian (Palitra L Publishing), German (Berlin Verlag in der Piper Verlag GmbH), Greek (Patakis Publications S.a.), Hebrew (Sela Publishers), Hungarian (Alexandra Konyveshaz Kft), Italian (Longanesi & C.), Japanese (Hayakawa Publishing Corporation), Korean (Munhakdongne Publishing Group), Macedonian (Pablisher Dooel), Norwegian (Vigmostad & Bjørke AS), Polish (Spoleczny Instytut Wydawniczy Znak), Portuguese in Brazil (Editora Intrinseca Ltda.), Portuguese in Portugal (Editorial Presenca), Romanian (RAO International Publishing Company), Russian (EXEM Licence Ltd.), Serbian (Vulkan Izdavastvo d.o.o.), Slovene (Ucila International Zalozba), Spanish (Publicaciones y Ediciones Salamandra SA), Swedish (Massolit Förlagsgrupp AB), Thai (Amarin Printing & Publishing Public Company Limited), Turkish (Pegasus Yayincilik TIC ve San. Lts. Sti.), Ukrainian (Krajina Mriy)
Film rights to Nicole Kidman/Blossom Films and Mazur Kaplan.
Share: