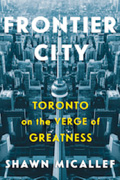 FRONTIER CITY is a book about a city with Los Angeles sized proportions, with both the prosperity and poverty associated with such vastness and an infrastructure that struggles to support its growing population; a city that's in the throes of an identity crisis – but on the launching pad to being a great world city. Author Shawn Micallef walks and talks through the city, finding the beauty that's often overlooked and a force for change that's been building for decades as people move there from every corner of the globe. FRONTIER CITY is a revelatory view of the Toronto of today and an inspiring vision of the Toronto of the near future. To Tim Rostron at Signal/McClelland & Stewart,
Penguin Random House
Canada by Samantha Haywood (Canada English).
Share: