ALL THE DIRT: A History of Getting Clean, written by Katherine Asheburg and illustrated by Capucine Mazille, publishes with Annick Press today – Happy Book Birthday to both Katherine and Capucine!
Says the publisher of the book, "All the Dirt is a lively, informative exploration of the evolution of personal hygiene. Starting with a number of myths about cleanliness, the author gives a quick overview of the topic. Throughout most of history, people rejected the notion of keeping clean, with some exceptions—the
ancient Romans were obsessive about it. Readers will

discover how the definition of cleanliness in one part of the world may differ radically from
another. In Zimbabwe, for example, cleanliness means coating your washed body with a mixture of oil and dirt! There is just enough of a gross factor that young readers will find the book as entertaining as it is enlightening. Colorful spreads, lots of sidebars, humorous illustrations, and photos make it ideal for browsing as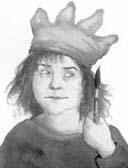 well as reading in depth."
Visit Annick's website to read more and look inside the book! Annickpress.com/All-the-Dirt
Purchase the book at Amazon.ca.
Reviews
"With its lively writing and presentation, this informative book makes the history of cleanliness unexpectedly fun." – Booklist
"VERDICT A factual yet witty take on dirt and cleanliness. Highly recommended for school libraries." – School Library Journal
"The text successfully shows the influences of religion, class distinctions, geography, individual thinkers, and advertising on cleanliness behaviors throughout centuries and over most continents, ending with current practices in Canada and the U.S.—including the ongoing debate about antibacterial products. Colorful pages brim with sidebar anecdotes related to bathhouses, soap, toilets, and surprised international travelers." – Kirkus Books
Share: