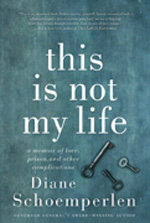 Congratulations to Diane Schoemperlen and Sandra Martin whose books THIS IS NOT MY LIFE (HarperCollins Canada) and A GOOD DEATH (HarperCollins Canada), respectively, have been longlisted for the 2017 BC National Award for Canadian Non-Fiction.
BC Achievement Foundation chair Keith Mitchell says, "This year's lineup of Canadian non-fiction titles continues a strong tradition of excellence among our national writers."
This is one of Canada's leading literary non-fiction prizes. The longlist was selected from 137 books from 35 publishers.
The BC National Award for Canadian Non-Fiction will announce its shortlist in December and the award will be presented in Vancouver in early 2017.
For more information and for a list of all ten longlisted books, please visit BCachievement.com/nonfiction/longlist
Share: