We are celebrating with Rachel Macy Stafford today as her newest book ONLY LOVE TODAY makes its way into the world. Huge thanks to her amazing launch team, and the dedicated staff at Zondervan who have worked tirelessly to get the word out in traditional and new ways.
Thanks also to The Salt Project for their stunning video work which is now playing on Target's Showcase walls across the land. Their work so perfectly captures Rachel's positive, love building, life changing message in her brand new book, ONLY LOVE TODAY.
We are always proud to see our authors' books offered by various retailers, but we're especially excited to stand beside Rachel today, and want to offer a special word of thanks to Target for creating this special opportunity to help Rachel's book soar.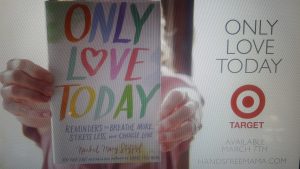 To purchase a copy of ONLY LOVE TODAY, please visit your favorite retailer, or stop in at your local Target to see Rachel's smiling face on their Showcase wall, pick up a copy, and leave behind a little of your own "evidence of a day well lived…"
Share: