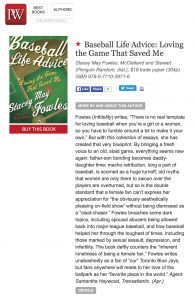 We're thrilled to share a starred Publishers Weekly review of BASEBALL LIFE ADVICE by Stacey May Fowles.
From PW – "By bringing a fresh voice to an old, staid game, everything seems new again…fans anywhere will relate to her love of the ballpark as her 'favorite place in the world.'"
BASEBALL LIFE ADVICE is an engaging collection of essays about baseball, its culture, and its community, which celebrates and challenges the game – and reminds us why it really matters.
Available for purchase on April 11th.
Share: