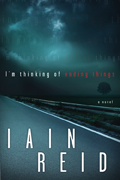 We are incredibly proud to share that I'M THINKING OF
ENDING THINGS by Iain Reid has been voted a 2016 Shirley Jackson Awards nominee in the Novel category! The Shirley Jackson Awards honours the late author Shirley Jackson's writing by acknowledging outstanding literature focusing on psychological suspense, horror, and dark fantasy. Congratulations to Iain and all the other nominees!
The award will be presented at Readercon 28 on July 16.
For a full list of nominees and more information about the award, please visit www.shirleyjacksonawards.org/nominees/.
Share: