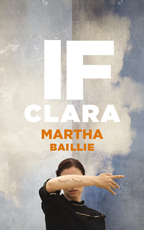 Today IF CLARA by Martha Baillie publishes with Coach House Books and we couldn't be more excited! Happy Book Birthday Martha!
From the Publisher: A mysterious manuscript falls into a bed-ridden writer's lap in this novel of broken bones, Syrian folktales, and plummets of all varieties.
In If Clara, nobody stands on firm ground. Daisy, an author confined to her home, her leg in a cast from hip to ankle, receives a parcel containing the manuscript of a novel about a Syrian refugee, and is asked to pose as its writer. Julia, a curator of installation art, has no idea that her sister, Clara, has written a novel. However, she does know that Clara suffers from a debilitating mental illness that renders her wildly unpredictable. And Maurice's life is changed by a pair of binoculars welded to the wall of Julia's gallery. These stories collide in a most unexpected way.
Please visit the following link for more information about the book: chbooks.com/Books/I/If-Clara
Also, please join Martha Baillie on September 19th! In partnership with the IFOA and Toronto Lit Up, Coach House Books is launching IF CLARA. Doors open at 7 and readings will begin at 7:30. Don't miss the chance to see her on October 5th at the Coach House Books Fall Launch. She will attend alongside fellow Transatlantic Agency client Naben Ruthnum. Full event details can be found at the following link: chbooks.com/Events
Praise: 
"Baillie's mastery distinguishes each voice. Even the neat and sentimental conclusion offers solace as the characters' complexity resonates beyond the page…Baillie's novel will appeal to many and please the literary-minded too." – Quill & Quire
Rights Sold: Coach House Books, World, All Languages ex. French
Share: