Happy Book Birthday to Sarah Faber, whose stunning and luscious debut novel ALL IS BEAUTY NOW officially publishes in Canada with McClelland & Stewart today!
The US edition come out from Little Brown a few weeks ago and is already receiving great reviews and buzz.
Some of the praise rolling-in for All Is Beauty Now:
"All Is Beauty Now is as redolent and lush as a garden in Rio. Sarah Faber performs a poetic conjuring act of loss, love, and redemption in this haunting novel."  —Ann-Marie MacDonald, author of Adult Onset and Fall on Your Knees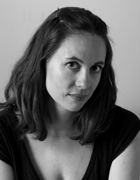 "Part mystery, part family drama, All Is Beauty Now is a vivid and gripping debut about the pain of living with those among us who burn more brightly and delve deep into the dark. Moving deftly from character to character, Sarah Faber unravels a veritable Gordian knot of family ties, revealing what it takes to stay by a loved one who lives life in extremis—as well as what it takes to cut free." —Alissa York, author of The Naturalist
"At once an intimate family portrait, a mystery, a romance, and a stylistic tour de force."  —Johanna Skibsrud, Scotiabank Giller Prize-winning author of The Sentimentalists
"At first blush a deft, kaleidoscopic chronicle of a family's grief after the disappearance of a 20-year-old daughter off the shores of Rio de Janeiro, All Is Beauty Now is an unflinching look at the pervasive effect of secreted mental illness. Like the brilliant swirl of Carnival, the Maurer family's story possesses multiple layers of both splendor and affliction. I lost myself in its white sands, birds of paradise, and madness." —Anne Korkeakivi, author of The Shining Sea
"This novel felt alive in my hands as I read it; the writing thrilled me, the setting transported me, and the characters broke my heart. In All Is Beauty Now, Sarah Faber has achieved the rare feat of mixing both gorgeously poetic prose with a plot so absorbing I could hardly look away from its pages. Faber is an important new voice in fiction, and All Is Beauty Now is a masterful and stunning debut." —Amy Stuart, author of Still Mine
"For the reader, beauty illuminates every page, the loveliness of Faber's prose bringing light to even the darkest turns and twists of the Maurers' story, like stars across the night sky. A magnificent, compassionate, and beguiling novel from a great new talent." —Rebecca Silver Slayter, author of In the Land of Birdfishes
"Notable for its lovely prose and melancholy empathy….All Is Beauty Now [is] a finely observed consideration of how mental illness impacts an entire family."–Kirkus
"This debut infuses the fierce familial love with the bitter ache of dreams lost and secrets kept. Faber's swirling, dreamlike prose paints a wildly beautiful Brazil. Readers will lose themselves in this delicately wrought, heartbreaking tale."– Publisher's Weekly
"Richly realized and filled with tantalizing secrets, this novel offers a dramatic look at one family's struggle to survive." –Book List
The novel was featured on Canadian Living:
http://www.canadianliving.com/life-and-relationships/canadian-living-books/article/must-have-books-launching-in-august-2017
Also, please visit the following link for more information about the
book: https://penguinrandomhouse.ca/books/541322/all-beauty-now
Please visit Lithub to read Sarah's piece about writing about mental
illness: http://lithub.com/do-i-have-the-right-to-inhabit-anothers-mental-illness-in-fiction/
Book pitch from the Publisher: "In the aftermath of the mysterious disappearance of their eldest daughter, a once-golden family prepares to leave behind the seeming paradise of Brazil for the safer, more pragmatic shores of Canada. But as the family counts down the days to their departure, secrets and betrayals surface, threatening their hopes for a new life.
Brazil, 1962: A young woman walks into the waters off a crowded beach and vanishes. A year later, her family – the once-golden family of their privileged little community – prepares to leave behind the seeming paradise of Brazil in the wake of their eldest daughter's presumed drowning. As they attend a series of goodbye parties and count down the days to their departure, we are taken into the heart of a family whose many charms belie more troubling truths.
There is the family's charismatic father, whose emotional extremes are becoming increasingly disturbing; his long-suffering wife, who made a mistake that has shattering consequences for the family she meant to protect; and their two remaining daughters, both on the precipice of joining the adult world with all its secrets and lies. Then there is the lost daughter herself, a woman undone by her attempts to grasp at happiness.
With settings ranging from the opulence of the legendary Copacabana Club to the poverty of Rio's fishing villages, this sensual and beautifully written novel reveals the soul of a family living in the shadow of tragedy, one poised on the brink of a new life, if only they could make peace with the past."
Share: