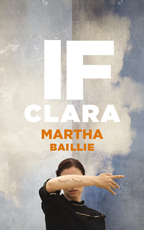 Mark your calendars with these fantastic fall events with Martha Baillie​, author of recently published IF CLARA (Coach House Books​). Her previous novel, THE SEARCH FOR HEINRICH SCHLOGEL, has just been released in French by Actes Sud​.
October 4, 7 pm: LITERARY ENCOUNTER – "THE SEARCH FOR HEINRICH SCHLÖGEL": MUSIC AND POST CARDS (Lecture in French)
Martha Baillie, a Canadian novelist, will discuss her latest book published by Actes Sud: The Search for Heinrich Schlögel, accompanied by Sophie Perceval, journalist and cultural entrepreneur, and the novel`s translator, Paule Noyart, three-time winner of the Governor General's Literary Award for her translations.
Canadian composer, Nic Gotham, wrote a piece inspired by this literary work. Rick Sacks (percussion), Jonno Lightstone (clarinet), Stephen Clarke (piano) and Anne Bourne (cello) will interpret Gotham's work for this occasion, blending music, literary, fantasy, and self-discovery.
Spadina Theatre
24 spadina road
M5R 2S7 Toronto,
Alliance-francaise.ca/the-search-for-heinrich-schloege-music-and-post-cards
October 5, 7-10 pm: COACH HOUSE FALL LAUNCH
Buddies in Bad Times Theatre (12 Alexander St.)
October 17, 7-8:30 pm: EH LIST READING
More details here – Torontopubliclibrary.ca/EhList
October 22: IFOA: International Festival of Authors​ – moderating panel of European Writers.
November 15, 7-8:30 pm: READING AT BLUE HERON
62 Brock St W, Uxbridge
Share: