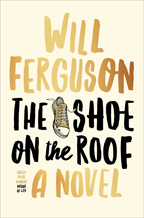 Today THE SHOE ON THE ROOF by Scotiabank Giller-Prize winner Will Ferguson publishes with Simon & Schuster Canada! Even before publication, the novel has already received a great deal of praise and attention. We are so proud that it was named a Loan Stars top 10 picks for October 2017! Check out some of the great media coverage and rave reviews below!
Praise
"The book is genuinely enjoyable to read, and there's no denying Ferguson's charm."- Quill and Quire 
"WOW. A-MAZ-ING. I absolutely adored this insightful adventure! I will be playing catch up on more by this author for sure. Thank you to Simon and Schuster & Indigo for providing this ARC and introducing me to another great read!"
-Izsy (Indigo Loyalty), 5/5 star review
"An AMAZING New Read for your Autumn Must Read Pile. This book made me laugh out loud, and had me thinking. It is riveting, and I could not put it down – devoured in one sitting. On sale October 17th – make sure you get yourself a copy of this and jump it to the top of your #tbrpile – the PERFECT autumn read!" – Candice (Indigo Loyalty/Goodreads/Instagram), 5/5 star review
"I absolutely loved every bit of this."
– RadioActiveBookWorm (Goodreads, also on her blog here: http://bit.ly/2wR1eTs), 5/5 star review
"Bravo, another winning book from this talented author!" – Kendra (Goodreads), 4/5 star review
"this book does not disappoint." – Hilary (Goodreads, also mentioned on her blog here: http://bit.ly/2gfv2Gd), 4/5 star review
Media and Events
Tonight he'll be at Blue Heron Books in Uxbridge! Visit the following link for full details: https://blueheronbooks.com//?q=h.calevent&eid=347
Check out an excerpt of the novel here: https://www.muskokaregion.com/news-story/7496264-summer-reads-the-shoe-on-the-roof-by-will-ferguson
Quill & Quire, Winnipeg Free Press, The Globe and Mail, and CBC Books each included mentions of THE SHOE ON THE ROOF. Visit the following links to their fall previews below:
https://www.winnipegfreepress.com/arts-and-life/entertainment/books/sizzling-stories-439862913.html
https://beta.theglobeandmail.com/arts/books-and-media/the-most-anticipated-books-of-the-rest-of2017/article35959642/
http://www.cbc.ca/books/20-works-of-canadian-fiction-we-re-excited-to-read-1.4249720
www.quillandquire.com/omni/fall-preview-2017-fiction
From the Publisher: "From the Giller Prize–winning novelist of 419 comes the startling, funny, and heartbreaking story of a psychological experiment gone wrong.
Ever since his girlfriend ended their relationship, Thomas Rosanoff's life has been on a downward spiral. A gifted med student, he has spent his entire adulthood struggling to escape the legacy of his father, an esteemed psychiatrist who used him as a test subject when he was a boy. Thomas lived his entire young life as the "Boy in the Box," watched by researchers behind two-way glass.
But now the tables have turned. Thomas is the researcher, and his subjects are three homeless men, all of whom claim to be messiahs—but no three people can be the one and only saviour of the world. Thomas is determined to "cure" the three men of their delusions, and in so doing save his career—and maybe even his love life. But when Thomas's father intervenes in the experiment, events spin out of control, and Thomas must confront the voices he hears in the labyrinth of his own mind.
The Shoe on the Roof is an explosively imaginative tour de force, a novel that questions our definitions of sanity and madness, while exploring the magical reality that lies just beyond the world of scientific fact."
Rights Sold: Canada English, Simon & Schuster Canada
Share: