This important novel has also been selected for
Penguin Random House
's prestigious ONE WORLD, ONE BOOK campaign, which is an exclusive global program recognizing 1-3 titles on the
Penguin Random House
list per year that have international relevance and international bestseller potential.

The campaign supports the selected title to the highest level to ensure the book is celebrated worldwide.
For readers of Khaled Hosseini and Chris Cleave, THE BOAT PEOPLE is an extraordinary novel about a group of refugees who survive a perilous ocean voyage only to face the threat of deportation amid accusations of terrorism.
When a rusty cargo ship carrying Mahindan and five hundred fellow refugees from Sri Lanka's bloody civil war reaches the shores of Vancouver Island, the young father thinks he and his sixyear-old son can finally start a new life. Instead, the group is thrown into a detention processing center, with government officials and news headlines speculating that among the "boat people" are terrorists now posing a threat to Canada's national security.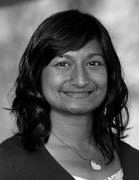 Sharon Bala's short fiction has won three Newfoundland and Labrador Arts & Letters Awards and been published, or is forthcoming, in:
Grain
,
PRISM International
,
The New Quarterly
,
Room
,
Riddle Fence
, and in a collection called Racket. Two of Sharon's short stories, "Reading Week" and "Butter Tea at Starbucks", were longlisted for the 2017 Journey Prize with the latter continuing on to win the prize. THE BOAT PEOPLE is her debut novel.
Pre-publication Praise for THE BOAT PEOPLE
"Timely and engrossing…This is a powerful debut."
-Publishers Weekly
"This earnest debut novel forcefully explores the issues surrounding immigration…deeply moving and nuanced, The Boat People asks what price a country is willing to pay when public safety comes at the cost of human lives."
"A real ship of refugees inspires a novel about the messy consequences of war Memorable…Chilling…"
"The Boat People will – and should… – linger long in the mind as an almost Graham-Greene-esque thriller about Canada's Sri Lankan Tamil diaspora. Homeric in her narrative arc, Bala's novel is rhetorically purposive – but poetically, softly rhetorical…Bala is ahead by a century in the cricket score of politically powerful contemporary fiction."
"In this moving novel, hundreds of Sri Lankan refugees make a dangerous voyage to seek asylum in Canada. The threat of deportation soon follows their arrival, sparking questions about compassion and humanity and identity—identity, in all its transformative complexities."
-Southern Living
"A sharp examination of the global refugee crisis from both human and bureaucratic perspectives."
-Toronto Life
"The Boat People is a powerful, gripping moral drama told with deep compassion and humanity. Sharon Bala takes us behind the headlines about refugees and asylum seekers straight into the beating hearts of unforgettable human beings. A timely tale and a beautiful, remarkable debut."
-Lynne Kutsukake, author of The Translation of Love
"This wise and compassionate novel is an intimate portrait of one of the great humanitarian crises of our time. Its power lies in its breadth, for it examines not just those who come to our country seeking refuge, but also those who determine their fate. As such it implicates us all in the ongoing crisis."
-Shyam Selvadurai, author of The Hungry Ghosts and Funny Boy
"The Boat People is a beautifully crafted story with a big heart. This novel has an urgency and relevance that cuts to the bone and will resonate with readers of all stripes. Bala offers no easy answers and no political posturing, but her magnificent storytelling will leave readers wondering about their own convictions, asking themselves, 'What would I do? What would I have done?' I love this book and, somehow, I empathized and understood every character's motivation and heart, despite their seemingly opposing stances. The spirits of Bala's complicated, well-developed characters will linger with you like ghosts; you will look for them in the newspaper, on the evening news, everywhere, and when you encounter them, you will pause and wonder, not only about them but about yourself."
-Michel Stone, author of Border Child
"The Boat People is a burning flare of a novel, at once incendiary and illuminating. With a rare combination of precision, empathy and insight, Sharon Bala has crafted an unflinching examination of what happens when the fundamental human need for safety collides with the cold calculus of bureaucracy. In the best tradition of fearless literature, it shatters our comfortable illusions about who we really are and reveals just how asymmetrical the privilege of belonging can be. This is a brilliant debut – a story that needs to be told, told beautifully."
-Omar El Akkad, author of American War
Share: