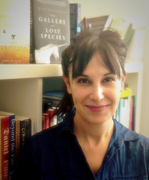 Associate Agent Stephanie Sinclair has been promoted to Senior Agent and will oversee international rights sales for clients represented by Samantha Haywood. Sinclair joined Transatlantic in 2012. She has been an Associate Agent for five years, while also working as Samantha Haywood's Executive Assistant, a role she left last Spring. In addition to becoming a Senior Agent, she will take on the role of International Rights Manager for Samantha Haywood's author and corporate clients. Haywood will continue to work exclusively with her authors in the North American markets and for TV/film and will oversee the strategy for their international sales. Haywood's client list includes Iain Reid, Zoe Whittall, and publisher client Drawn & Quarterly.
Page Two, a private corporate client owned and operated by Transatlantic agents Jesse Finkelstein and Trena White have also hired Sinclair to oversee international sales for select clients.
Within her own list, Sinclair represents writers of award-winning fiction and nonfiction including Journey Prize winner Sharon Bala's THE BOAT PEOPLE and the Indigenous writers Harold Johnson and Billy Ray Belcourt. She co-represents (along with Haywood) CURRY author Naben Ruthnum/Nathan Ripley and Alicia Elliott.
Said Haywood, "Stephanie is an excellent agent and a tireless promoter of our authors. She has great literary instincts and is a pleasure to have in the team. I have confidence we will continue to work well together on my client's international rights deals."
Transatlantic Agency is the largest literary agency in North America with experienced agents in both the United States and Canada actively covering adult and children's books in every market and a growing Speakers Division. Transatlantic has 13 literary agents located in the US and Canada representing over 350 clients. Founded more than 20 years ago, Transatlantic is a vibrant collective of tenacious, independent, publishing professionals with diverse backgrounds and specialties.
For more information contact: Samantha Haywood at samantha@transatlanticagency.com.
Share: