The Ontario Library Association has announced their Evergreen Award finalists, including Carol Off's ALL WE LEAVE BEHIND (Random House Canada) and Catherine Hernandez's SCARBOROUGH (Arsenal Pulp Press) – congratulations to you both!
The Forest of Reading awards recognize the best work by Canadian authors and illustrators. Over a quarter of a million readers participate in the program through schools, public libraries, literacy centres and within their homes. These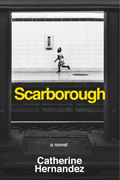 awards encourage a love of reading through programs aimed at children and adults who vote for the winning books.
For the full list of nominees, please visit: Accessola.org/web/OLA/Forest_of_Reading/Nominated_Lists/
Share: