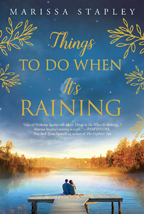 Today we're thrilled to say Happy Book Birthday to Marissa Stapley, as her book THINGS TO DO WHEN IT'S RAINING publishes in Canada with Simon & Schuster, in the US with Graydon House, and as an audiobook with Blackstone Audio! Previously, it published in November 2017 in Germany with Rowohlt.
Though it's only just published in North America, it already is receiving some great praise and attention. See below a selection of advance praise and how it's been featured in the media!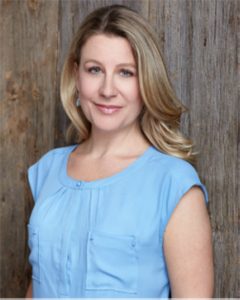 At Pop Sugar, it was listed among 8 books that remind readers of the hit show This is Us: www.popsugar.com/entertainment/Books-Fans-Us-44450561
It's also been named a Loblaws Book of the Moment.
From Simon & Schuster:

When secrets tear love apart, can the truth mend it? —from The Globe and Mail-bestselling author Marissa Stapley.
Mae Summers and Gabe Broadbent grew up together in the idyllic Summers' Inn, perched at the edge the St. Lawrence River. Mae was orphaned at the age of six and Gabe needed protection from his alcoholic father, so both were raised under one roof by Mae's grandparents, Lily and George. A childhood friendship quickly developed into a first love—a love that was suddenly broken by Gabe's unexpected departure. Mae grew up and got over her heartbreak, and started a life for herself in New York City.
After more than a decade, Mae and Gabe find themselves pulled back to Alexandria Bay by separate forces. Hoping to find solace within the Summers' Inn, Mae instead finds her grandparents in the midst of decline and their past unravelling around her. A lifetime of secrets that implicate Gabe and Mae's family reveal a version of the past that will forever change Mae's future.
From the bestselling author of Mating for Life comes a poignant generational story about family and secrets. With honesty and heart, Marissa Stapley reminds us of the redemptive power of love and forgiveness, and that, ultimately, family is a choice.
Advance Praise
"Things To Do When It's Raining is commercial fiction at its best. Compelling, heartfelt and well-crafted. A gem of a page-turner." – The Toronto Star 
"The intensity of the lasting love and friendship between Gabe and Mae is emotionally powerful and finely wrought, and Stapley complements this story about the difficult choices family members make for those they love with an evocative setting."
– Publishers Weekly
"Things to Do When It's Raining has heart and soul and guts, and it has achingly beautiful prose and characters so dear and real I couldn't bear to say goodbye when I reached its final page. It's a book about friendship and secrets, grief and regret, the peculiar shape of families and the redemptive nature of love. And it is, quite frankly, one of the best books I have read in a very long time."
– Jennifer Robson, bestselling author of Moonlight over Paris
"Fans of Nicholas Sparks will adore Things to Do When It's Raining, an irresistible tribute to first love, second chances and the powerful legacy of the past. Elegant and heartfelt, Marissa Stapley's writing is a gift."
– Pam Jenoff, New York Times bestselling author of The Orphan's Tale
"Evocative, wise and infused with heart. A deeply moving story about family, love and loss, the novel shows how secrets can either haunt us or set us free, depending on who we trust them with. One of my favorite books this year!"
– KARMA BROWN, bestselling author of Come Away with Me
"A generous book about imperfect people, a novel about the family we choose, the mistakes we make, and how love, flawed and searching and messy, is the only path to forgiveness.  It's also a gorgeously written page-turner, and when I finished it, I flipped right back to page one to savor it just a little bit more."
– Lauren Fox, author of Days of Awe
"A tightly woven story that beautifully illustrates how tragedy and human weakness can cause heartbreaking ripples for years and generations to come."
– K.A. Tucker, bestselling author of He Will Be My Ruin
"There is something so intimate and true in the sentence, 'Every marriage harbors secrets, secrets about why it works or why it doesn't work, secrets between two people that the rest of the world can never be privy to.' Profound and intimate, raw and real—Things to Do When It's Raining is hard to put down. Loved the ending but hated to have it end!"
– Nan Rossiter, New York Times bestselling author of Firefly Summer
"The complex and moving saga of a non-traditional family with deep bonds and even deeper secrets. Set against the idyllic background of a far-flung seaside town, the finely drawn characters of this novel test the limits of friendship, love, and forgiveness. A story that lingers long after the final page is turned."
– Andrea Dunlop, author of Losing the Light
"Spellbinding. . . . I fell in love with Mae Summers from the first page, and I followed her, heart between my teeth, as she uncovered family secrets and reconsidered her place in the world. Full of engaging characters, sensitivity and insight, Marissa Stapley's newest novel is a beautiful, emotionally acute saga that makes us all reconsider the meaning of love and family."
– Danila Botha, author of Too Much on the Inside
"A haunting, gripping novel about family secrets and love lost and found. It's a story that will resonate with anyone who has returned home to find that places have as much power as people to wound, and heal."
– Elizabeth Renzetti , author of Based on a True Story
"Written with compassion and insight, Things to Do When It's Raining is a truly captivating novel with exquisite prose and moments of bittersweet tenderness."
– Nicola Moriarty, author of The Fifth Letter
"Regrets, secrets, and hidden longings swirl beneath the surface of this beautifully atmospheric story of love found, lost, and rediscovered.  I couldn't stop reading."
– Shelley Noble, NYT bestselling author of Whisper Beach and The Beach At Painter's Cove
"I enjoyed Things to Do When It's Raining enormously. A lovely book full of emotion and wisdom."
– Marian Keyes
Share: