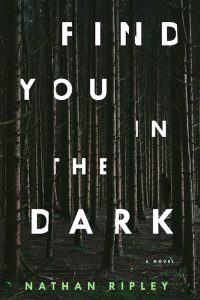 Happy Book Birthday to Naben Ruthnum's, writing as Nathan Ripley, FIND YOU IN THE DARK published on March 6th with Simon & Schuster in Canada! It's also due to publish in Australia with Text Publishing on April 2nd 2018, and in the US in June 2018 with Atria Books!
Visit the Simon & Schuster website at the following link for more information and to read an excerpt: www.simonandschuster.ca/books/Find-You-in-the-Dark/Nathan-Ripley/9781501179037
Simon & Schuster will host the official launch tonight at Ben McNally Books – stay tuned for photos from the event!
We are thrilled to congratulate Naben Ruthnum, writing as Nathan Ripley, on FIND YOU IN THE DARK being named a Loblaws Book of the Moment!
FIND YOU IN THE DARK is also a Paul's Pick, which will bring this this novel to 60 stores in airports across the country.
"Fans of Dexter will enjoy FIND YOU IN THE DARK" – Naben sat down with CTV​'s Your Morning​, full interview here: Ctv.ca/YourMorning/Find-You-in-the-Dark
Naben's CBC Books​'s Magic 8 Q&A: Cbc.ca/thriller-writer-nathan-ripley-on-the-highs-and-lows-that-came-with-writing-his-debut-novel
Advance Praise: 
"Acclaimed fiction writer and journalist Naben Ruthnum debuts his alter-ego Nathan Ripley with this fast-paced, smart, unsettling thriller." – The Globe and Mail
"A wickedly smart thriller that manages to be both chilling and wry. The page-turning plot . . . is thickened by a great cast of characters and Nathan Ripley's fantastic eye for detail and dialogue. Just when you think you've got a grasp on it, the story twists to new and darker places."– Amy Stuart, bestselling author of Still Mine
"A fast-paced, morbidly addictive novel of chilling infatuation. Ripley's impressive debut is a rich and innovative thriller." – Iain Reid, bestselling author of I'm Thinking of Ending Things
"It's not always easy diving into the mind of an obsessive protagonist, but Martin Reese's fixation on finding dead bodies makes for one heck of an addictive thriller. Find You in the Dark by Nathan Ripley is an original, inventive take on what happens when you go looking where you shouldn't. Start reading early in the day, or you'll be up all night like I was! A standout debut novel."– Jennifer Hillier, author of Jar of Hearts and Wonderland
"An unsettling exploration of obsession you won't soon forget. Nathan Ripley delivers a first novel that fans of Patricia Highsmith psychological thrills and Thomas Harris cat-and-mouse suspense will devour. I certainly did."– Andrew Pyper, author of The Demonologist and The Only Child
"Crafty and dark, Nathan Ripley's novel toys with the lines between predator and prey, his sentences as careful and considered as the crimes he depicts. Ripley is a truly exciting new voice in the thriller world."– Roz Nay, bestselling author of Our Little Secret
From the Publisher: In this chilling debut thriller, in the vein of Dexter and The Talented Mr. Ripley, a family man obsessed with digging up the undiscovered remains of serial killer victims catches the attention of a murderer prowling the streets of Seattle.
Martin Reese is obsessed with murder. 
For years, he has been illegally buying police files on serial killers and studying them in depth, using them as guides to find missing bodies. He doesn't take any souvenirs, just photos that he stores in an old laptop, and then he turns in the results to the police anonymously. Martin sees his work as a public service, a righting of wrongs that cops have continuously failed to do.
Detective Sandra Whittal sees it differently. On a meteoric rise in police ranks due to her case-closing efficiency, Whittal is suspicious of the mysterious caller—the Finder, she names him—leading the police to the bodies. Even if the Finder isn't the one leaving bodies behind, who's to say that he won't start soon?
On his latest dig, Martin searches for the first kill of Jason Shurn, the early 1990s murderer who may have been responsible for the disappearance of his sister-in-law, whom he never met. But when he arrives at the site, he finds a freshly killed body—a young and recently disappeared Seattle woman—lying among remains that were left there decades ago. Someone else knew where Jason Shurn buried his victims . . . and that someone isn't happy that Martin has been going around digging up his work.
When a crooked cop with a tenuous tie to Martin vanishes, Whittal begins to zero in on the Finder. Hunted by a real killer and by Whittal, Martin realizes that in order to escape the killer's trap, he may have to go deeper into the world of murder than he ever thought.
Share: