Film/TV rights to Harriet Alida Lye's thrilling debut novel, THE HONEY FARM, have sold to Sonya Di Rienzo and Aeschylus Poulos of Hawkeye Pictures. The deal was arranged by Kim Yau of Paradigm on behalf of Stephanie Sinclair.
The novel tells the story of two budding artists who move to a remote farm and begin a romance, as creepy, inexplicable events, possibly orchestrated by the enigmatic woman in charge, start to unfold around them. In the hands of brilliant newcomer Harriet Alida Lye, the natural world is both lovely and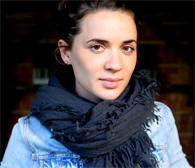 menacing, as lushly depicted as the interior lives of her characters. Building to a shocking conclusion, THE HONEY FARM announces the arrival of a bold new voice and offers a thrilling portrait of creation and possession in the natural world.
Hawkeye Pictures is a producer of feature films, tv series, documentaries and digital content. Recent film credits include Sleeping Giant (Cannes Film Festival, Semaine de la Critique); Mary Goes Round (Toronto International Film Festival 2017); and 22 Chaser (2018). The latest project, Propaganda: The Art of Selling Lies, is currently in production.
Selected Prepublication praise for Harriet Alida Lye's THE HONEY FARM (World Rights Available Ex: U.S., Liveright; Canada, Vagrant Press; Australia, Penguin Random House):
Barnes & Noble​ Discover Pick! Barnesandnoble.com/2018-bn-discover-great-new-writers-selections
https://www.hawkeyepicturesinc.com/news
Hawkeye Pictures Developing Mystery 'The Honey Farm' as Movie (EXCLUSIVE)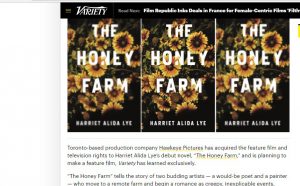 "An aura of mystery, faintly tinged with menace, permeates Canadian author Lye's sensuous debut novel …Lye offers an achingly lyrical excursion into a lost Eden"
-Publishers Weekly
"Each lyrical line feels like a gift left at the reader's altar. A honey-mouthed debut ruminating on creation, possession, and faith." -Kirkus Reviews
"With a strong command of tone and a haunting sense of atmosphere, Lye's first novel will transfix readers. At times lyrical, biblical, and otherworldly, The Honey Farm is a suspenseful and well-crafted story." -Booklist
A Quill & Quire Editor's Pick- "Lye evokes gothic tropes and an aura of foreboding that recall Shirley Jackson and Daphne du Maurier by way of the tortured Catholicism of Flannery O'Connor." -Quill and Quire
Selected as an April Top Ten for Loan Stars! "A creepy (in the best way) dark tale set on a remote Ontario Honey farm. For fans of The Poisonwood Bible or the novels of Jane Smiley or Louise Erdrich."
"The Honey Farm is a delightful and mistily enigmatic story…I am putting The Honey Farm on the 2018 longlist for a 'Very Best!' Book Award for fiction."
-The Miramichi Reader
"I loved this book. The way Harriet Alida Lye captures and registers moments of encounter with gentleness and specificity, like bees bumping against flowers—there's magic afoot here."
-Lauren Elkin, author of Flaneuse: Women Walk the City in Paris, New York, Tokyo, Venice, and London (A New York Times Book Review Editor's Choice)
"Mysterious, suspenseful, and unnerving, The Honey Farm offers a thrilling narrative that examines the distorted realities and conflicting perceptions that often exist in the quietest places." –Iain Reid, bestselling author of I'm Thinking of Ending Things, an NPR Best Book of the Year, 2016
"The Honey Farm delves into the intimate mysteries of art, madness, religion, and love through a story built with beautiful language and lush sensory detail. Gothic and subtly menacing, it's a book as rich as the sweet substance at its core."
-Grace O'Connell, author of Be Ready for the Lightning
"The secret world of bees and the sensuous natural order in all its peril and glory come alive in this mesmerizing, suspenseful novel. Harriet Alida Lye is a writer of prodigious talent and The Honey Farm a thrilling, chills-inducing debut. Brava!"
-Carol Bruneau, award-winning author of Glass Voices and These Good Hands
"Beguiled by the promise of a writers' retreat, Sylvia leaves her staunchly Catholic family home for the uncertain territory of a honey farm in Northern Ontario. The Honey Farm offers readers an accomplished meditation on love, creativity and the wonder of the natural world, and a gripping exploration of a community that is perhaps not as it seems."
-Cathy Marie Buchanan, New York Times bestselling author of The Painted Girls
Share: