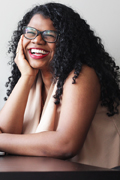 We're honoured to welcome Eternity Martis to Transatlantic!
Eternity is a Toronto-based journalist, and the associate editor at Xtra.
She holds a double honours major from Western University in English Language and Literature and Women's Studies, as well as a Certificate in Writing. She is also a graduate of Ryerson's Master of Journalism program.
She writes features, personal essays and longform pieces about race and racism, pop culture, music, relationships and women's issues. She was nominated for a National Magazine Award in 2017.
Her work has been featured in Vice, Salon, The Huffington Post, CBC, Hazlitt, The Walrus, Canadaland, The Fader and Complex and more.
She is currently working on a collection of personal essays about being a student and woman of colour amidst the growing anti-Black racism, white nationalism and alt-right ideologies in Canada and on Canadian campuses.
Eternity is represented by Stephanie Sinclair.
Share: