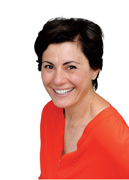 A warm welcome to Loredana Cunti as she joins us as a client, her picture book text Space Bat: The Partly True Story of the Stowaway Bat is currently on offer!
One of Loredana's passions is writing for the kid in all of us by finding stories in fun facts. Her very first book To Burp or Not to Burp: A Guide to Your Body in Space, co-authored with Dr. Dave Williams (Annick Press) was shortlisted for a Silver Birch Award, Hackmatack Children's Choice Award and 2018 Rocky Mountain Book Award and received a starred Kirkus review. The follow up, Go for Lift Off: How to Train Like an Astronaut has been selected as a Best Book for Kids and Teens by the Canadian Children's Book Centre, an OLA Top Ten Best Bet, and nominated for an American Association for the Advancement of Science SB&F Prize. Mighty Mission Machines and Destination Space are out in 2018 with Annick, and Loredana's first picture book, Karate Kakapo, is forthcoming in 2019 from Kids Can Press.
She earned a BAA in Radio and Television Arts at Ryerson University and spent many years living and travelling abroad as an executive producer of children's entertainment. She settled back in Canada to develop ideas for food, family and fiction and has created two original animated series for television that are currently in development. Loredana is a qualified pastry chef from Le Cordon Bleu in Paris, but admits she eats more than she bakes. She has two children and lives in Toronto.
Loredana is represented by Amy Tompkins.
Share: