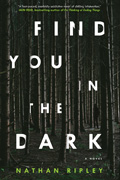 Not only does the U.S. edition of Naben Ruthnum's (writing as Nathan Ripley) FIND YOU IN THE DARK publish today with Atria Books, but both the U.S. and Canadian audio editions drop today too! Now it's up to you to decide how you'd like to experience your goosebumps.
Published by Simon & Schuster Canada in March, this bestselling debut thriller sold at auction in Canada and the U.S., and has sold on a pre-empt to eOne and at auction in the U.K. to Text Publishing.
In the vein of The Talented Mr. Ripley, FIND YOU IN THE DARK follows a family man obsessed with digging up the undiscovered remains of serial killer victims and soon catches the attention of a murderer prowling the streets of Seattle.
Praise for FIND YOU IN THE DARK
"[A] gripping debut thriller. . . Dexter fans will enjoy the creepy vibe."
-Publishers Weekly
"Ripley's debut offers a twist on the typical serial-killer story. . . . a unique spin with just enough creepy details to keep suspense readers interested." -Booklist
"Engrossing. . . . This debut thriller by the pseudonymous Ripley (Journey Prize winner Naben Ruthnum) is highly recommended for fans of Lee Child and C.J. Box."
-Library Journal
"There is something unsettling about this story and readers will feel that tension grow as they consume Find You in The Dark. Contrasting and conflicting emotions will dominate, making it impossible to stop until the chase is complete." -The BOLO Books review
"Ripley . . . has come up with a fresh angle to the serial murder game. . . . clever and diabolical . . . This unusual debut thriller has a lot going for it." -Kirkus Reviews
"A well-crafted crime novel that proves utterly absorbing. . . . with vivid scenes and complex psychology, Find You in the Dark lingers long after the last page has been devoured. And Ripley proves a stellar addition to the Canadian crime novel scene. An addictive debut." -Toronto Star
"A fast-paced book . . . akin to dark British crime TV dramas such as Broadchurch or Luther, satisfyingly sinister and unsettling in their explorations of the violent possibilities of humanity…" -The Globe and Mail
Share: