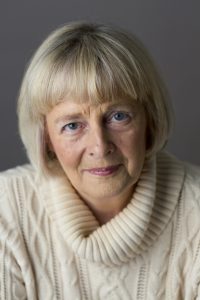 We have incredible news to share – Temple Street, a division of Boat Rocker Studios and producers of Orphan Black, have secured television rights to multiple prize finalist and internationally bestselling author Susan Swan's debut novel, THE BIGGEST MODERN WOMAN OF THE WORLD!! The deal was arranged by Samantha Haywood, full press release below.
Plus this great news too (!!) Swan's newest novel, THE DEAD CELEBRITIES CLUB, a timely and satirical novel featuring the hedge fund whale, Dale Paul, a witty, self-absorbed rogue and raconteur for fans of The Wolf of Wall Street and The Sellout by Paul Beatty, will be published by Cormorant Books in 2019, world ex: Canada rights now available. Contact: samantha@transatlanticagency.com.
Press release continued:
Originally published in 1983, and now a contemporary classic, THE BIGGEST MODERN WOMAN OF THE WORLD tells the extraordinary true story of a seven-foot-six giantess who exhibited with P.T. Barnum, and will be adapted for television by Hannah Moscovitch, one of Canada's leading writers.
Susan Swan's critically acclaimed fiction has been published in 15 countries, translated into eight languages and received multiple prize nominations. Her novels include What Casanova Told Me, The Western Light and The Wives of Bath, a bestseller that was adapted as the film Lost And Delirious.
Hannah Moscovitch is an award winning playwright, radio, film and television dramatist who has risen to international prominence with works such as This is War, The Russian Play and East of Berlin, and television dramas XCompany and Played.
Kerry Appleyard, SVP Temple Street, said: "Susan Swan's wonderful novel examines Western culture's obsession with size and abnormality as Anna's astonishing life unfolds. Ultimately it is an unlikely story of triumph over adversity which will resonate deeply with audiences worldwide. We're delighted that we have one of the strongest voices in Canada, the multiple award-winning Hannah Moscovitch, to adapt the series."
Susan Swan said: "This novel is very close to my heart and I'm thrilled that the television series will be created by Temple Street and Hannah. It's the ideal dream team to bring Anna Swan's incredible true story to life!"
Executive Producer Hannah Moscovitch said: "I am beyond thrilled to be working with the award-winning team at Temple Street, to bring Susan Swan's novel about the extraordinary Anna to our screens. Part truth, part legend, The Biggest Modern Woman of the World is a saucy romp through traditional categories of gender, sexuality and nationality and working on it is going to be a huge pleasure. "
Co-chairmen Boat Rocker Media David Fortier and Ivan Schneeberg will executive produce the television series based on The Biggest Modern Woman of the World by Susan Swan, along with Trish Williams (Killjoys, Saving Hope). Creator Hannah Moscovitch is also executive producer.
Temple Street is the premium scripted division of Boat Rocker Studios and produces a wide range of content including prime-time television dramas and comedies. Since 2005, Temple Street has been recognized with more than 120 awards and nominations, earning a global reputation for the quality of its programming. A selection of our productions include Orphan Black (BBC America, Space), Killjoys (Syfy, Space), X Company (CBC, Ovation), Being Erica (CBC, SOAPnet), Billable Hours (Global, Showcase), and Queer as Folk (Showtime, Showcase).
Share: