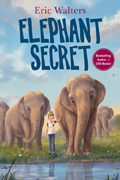 Happy Book Birthday to Eric Walters, whose 100th book, ELEPHANT SECRET, publishes today with Puffin in Canada and Clarion in America!
ELEPHANT SECRET is We Bought a Zoo meets Jurassic Park in a gripping story featuring the evergreen appeal of human-animal friendships and set in an elephant sanctuary, about a thirteen-year-old girl, a cast of elephants, and a surprising new arrival—a woolly mammoth.
Sam was born and raised in an elephant sanctuary. When a beloved elephant dies giving birth, Sam develops a connection with baby Woolly—who isn't actually an elephant but was cloned from woolly mammoth DNA. And the billionaire genius behind the cloning experiment will stop at nothing to protect his investment. Smart, determined, and loving, Sam stands up to this powerful adversary to protect the sanctuary and her herd. In the best tradition of child-animal friendship stories, ELEPHANT SECRET explores the strong and complex bond between Sam and her elephants while offering a fascinating, authentic glimpse into elephant—and human—behavior.
This middle grade novel has already received fantastic reviews:
"Walters' depiction of the bond that exists between Sam and her elephants is captivating. The elephants, who are presented as majestic and intelligent creatures with humanlike characteristics and rich emotional lives, will leave readers awestruck."
-School Library Journal
"Cliffhangers and elephants will keep readers engaged." -Kirkus
"Walters interweaves his beautiful family story with a thorough description of elephant behavior—their intellect, compassion, and loyalty—and factual scientific possibilities of cloning an extinct species…A must-read for anyone with an interest in elephants and their welfare." -Booklist
Share: