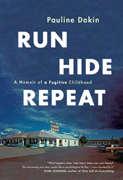 We're honoured to congratulate Pauline Dakin whose electric memoir RUN, HIDE, REPEAT: A Memoir of a Fugitive Childhood (Viking Books) has been shortlisted for the 2018 Edna Staebler Award for Creative Non-Fiction!
The jury on this year's shortlist: "The books on this year's shortlist demonstrate the breadth of what creative non-fiction can be…All unique in their own way, these books are expertly written and compelling reads."
The winner will be announced later this month. For more information about the award and for the full shortlist, please visit wlu.ca/news/edna-staebler-award-shortlist.
Share: