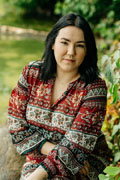 We're extending a warm and excited welcome to writer Karen McBride!
Karen is an Algonquin Anishnaabe writer from the Timiskaming First Nation in the territory that is now Quebec. She holds a Bachelor of Arts in Music and English, as well as a Bachelor of Education from the University of Ottawa. Most recently, Karen graduated with a Master of Arts in the Field of Creative Writing from the University of Toronto.
Karen is currently writing a novel that follows the story of Hazel, a young Algonquin woman who returns home to her reservation to reconcile the death of her father and the legacy left in his wake. With the aid of the trickster, Nanabush, Hazel begins to unravel a web of deceit that, if left untouched, could destroy her family and her home on both sides of the Medicine Wheel.
Presently, Karen is working as an elementary school teacher on her home reservation.
Karen is represented by Stephanie Sinclair.
Share: