Zoe Whittall's THE BEST KIND OF PEOPLE is having the best kind of September! Just this month, the US paperback edition published with a whole new cover and was chosen as Target's September Book Club Pick.
That's in addition to being a National Bestseller, a 2016 Scotiabank Giller Prize finalist, a National Post 99 Best Books of the Year, a Indigo Best Book of the Year and Globe and Mail Best 100 Books of 2016.
Read an excerpt of The Best Kind of People; you'll be piling on the praise and accolades too.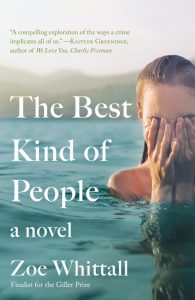 Praise:
"The Best Kind of People gets into the hearts and minds of an ordinary family forced to confront the monstrous. This novel is a timely discussion of what we owe those who abuse and those who are targeted in our communities."—Kaitlyn Greenidge, author of We Love You, Charlie Freeman
 
"I am obsessed with this book."—Samantha Irby, author of We Are Never Meeting in Real Life
"In our post–Harvey Weinstein world [this book] feels more timely and urgent than ever. . . . It draws an elegant line between rape culture, patriarchy, and privilege."—Claire Cameron, The Millions
 
"The Best Kind of People examines the effects of rape culture on an entire community with rare nuance and insight. Every character is fully rounded, flawed, and achingly human. It puts me in mind of a twenty-first-century Ordinary People."—Kate Harding, author of Asking for It
 
"Sure to provoke debate and send book discussion groups into overtime."—Library Journal (starred review)
"A powerful page-turner."—Cosmopolitan
"A gripping novel, one that shines a light on family dynamics under extreme pressure."—The Vancouver Sun
"Zoe Whittall's undisputed talent as a writer shines, as does her understanding into the complexity of our sympathies, our morality, and our humanity. With incredible empathy and undeniable skill this book is sure to spark much-needed dialogue, vital debate, and richly deserved acclaim."—Stacey May Fowles, author of Infidelity
"Flawless…Whittall overturns the typical cultural narrative…This may just be Whittall's breakout novel, and deservedly so."—The Winnipeg Review
"Taut, compassionate and clever."—Toronto Star
"If you are looking for a mystery to grip you this fall, pick up Whittall's The Best Kind of People." – Indiana Daily Student – idsnews http://www.idsnews.com/article/2017/08/ent-columnbook
"A humane, clear-eyed attempt to explore the ripple effects of sexual crime." –Kirkus Reviews
Share: