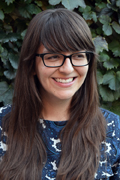 We're thrilled to welcome Pamela Korgemagi to Transatlantic!
After graduating from York University's creative writing program Pamela moved to Toronto where she has worked at various jobs throughout the city including being a game tester at a video game studio, receptionist at an industrial engine repair site, and human money counter in a vault. Calling to mind The Old Man and the Sea by Ernest Hemingway and The Bear by William Faulkner and for readers of Life of Pi by Yann Martel, THE HUNTER AND THE OLD WOMAN is Pamela's first novel, which follows a female cougar as she attempts the most remarkable of feats: survival in the forest.
Pamela is represented by Samantha Haywood.
Share: