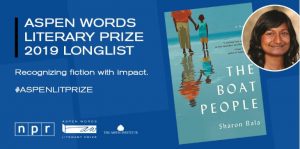 We can't congratulate Sharon Bala enough whose novel, THE BOAT PEOPLE (Doubleday Books), has been longlisted for the 2019 Aspen Words Literary Prize! This annual prize is awarded to "an influential work of fiction that illuminates a vital contemporary issue and demonstrates the transformative power of literature on thought and culture."
THE BOAT PEOPLE is Sharon Bala's bestselling debut that follows a group of refugees who survive a perilous ocean voyage only to face the threat of deportation amid accusations of terrorism.
The shortlist will be announced on February 20, 2019, and the winner will be revealed on April 11, 2019 at an awards ceremony in NYC.
For the full longlist, please visit: Aspenwords.org/programs/literary-prize/longlist/.
Share: