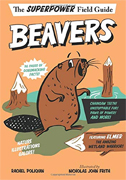 Happy book birthday to BEAVERS: The Superpower Field Guide, by Rachel Poliquin and illustrated by Nicholas John Frith, out today from HMH Books for Young Readers!
BEAVERS, the first book in the new middle-grade nonfiction SUPERHERO FIELD GUIDE series by Rachel Poliquin and award-winning illustrator Nicholas John Frith, is a delightfully informative, laugh-out-loud full-color look at the most unsuspecting of animal heroes, perfect for readers who like their facts served with a large dose of humor.
Rachel Poliquin is a writer engaged in all things orderly and disorderly in the natural world. With a cross-disciplinary background in visual arts, cultural history and natural history, she holds a Ph.D. in Comparative Literature from the University of British Columbia and a Post-Doctoral Degree in History from the Massachusetts Institute of Technology. Poliquin is the author of the SUPERPOWER FIELD GUIDE series, and has also written for Science Friday, The Believer Magazine, and The New York Times.
Pre-publication praise:
"Eager beavers who likewise find these redoubtable rodents 'utterly gobsmackable!' will find a chewy array of print and web resources to sink their teeth into at the end."
– Booklist, STARRED review
"Well worth the purchase."
– Kirkus Reviews
"Clear and friendly."
– School Library Journal
Share: