This week we're celebrating the US publication of Radiant Shimmering Light by Sarah Selecky. It's already topping Best of December lists and getting rave reviews. Here are just a few of our favorites:
"…hilarious book that pokes much-needed fun at the world of #blessed empowerment events.
—Mackenzie Dawson for the NY Post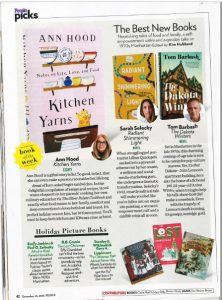 "If you need a belly laugh, add Radiant Shimmering Light to the top of your reading list. This hilarious satirical novel is about a single 40-year-old woman trying to build her brand as an animal aura portrait artist (lol) and her newly internet-famous cousin who supposedly has all the answers. Prepare for a lot of giggling and a lot of cringing." —Elizabeth Entenman for Hello Giggles
"Selecky's vivid, smartly satirical tale will make you feel like you've fallen into an exquisite painting, a women's empowerment cult and a midlife crisis all at once." –People Magazine
"[T]his darkly hilarious satire … delivers an unforgettable take on authenticity, success, and storytelling in today's digital age. —Melissa Ragsdale for Bustle
"In the satirical novel Radiant Shimmering Light, author Sarah Selecky holds up a mirror to society's obsession with creating fantasy lives that don't accurately reflect their reality." —Danielle Bauter for Orange County Register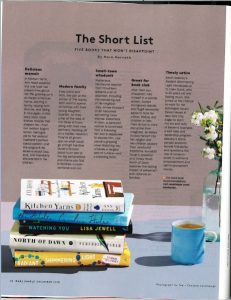 "Selecky's sharp parody explores female friendship and questions the role of consumerism in women's empowerment and self-improvement trends." –Nora Horvath for Real Simple
"If you've ever fallen asleep during savasana in yoga class or gotten a headache from your essential-oil mix, Sarah Selecky's hilarious debut novel about self-help gurus and the people who follow them is for you." —Bethanne Patrick for The Washington Post
"Selecky bucks expectations in her satirical portrait of estranged cousins Lilian, an artist obsessed with social media and finding enlightenment, and Eleven, a guru behind the cultish organization called the Ascendancy. They collide as only this cultural moment could allow. Lilian goes to work for Eleven and her queasily exploitative firm, selling empowerment for profit, and buys into the baloney. Selecky doesn't judge her, however, instead offering a radically gentle takedown of capitalist spiritualism. The author sacrifices bite for empathy, but as she scrolls through curated Instagram feeds and transcribes inane seminars, she still finds plenty to make fun of in this ridiculous — yet frighteningly familiar — world."  —David Canfield for Entertainment Weekly
"An insta-famous motivational guru recruits her cousin to a creepy training program in Sarah Selecky's Radiant Shimmering Light." –Cosmopolitan, Best December Ever
A nuanced satire–both hilarious and disconcerting–that probes the blurred lines between empowerment, spirituality, and consumerism in our online lives.
Lilian Quick is 40, single, and childless, working as a pet portrait artist. She paints the colored light only she can see, but animal aura portraits are a niche market at best. She's working hard to build her brand on social media and struggling to pay the rent.
Her estranged cousin has become internet-famous as "Eleven" Novak, the face of a massive feminine lifestyle empowerment brand, and when Eleven comes to town on tour, the two women reconnect. Despite twenty years of unexplained silence, Eleven offers Lilian a place at The Temple, her Manhattan office. Lilian accepts, moves to New York, and quickly enrolls in The Ascendency, Eleven's signature program: an expensive, three-month training seminar on leadership, spiritual awakening, and marketing. Eleven is going to help her cousin become her best self: confident, affluent, and self-actualized.
In just three months, Lilian's life changes drastically: She learns how to break her negative thought patterns, achieves financial solvency, grows an active and engaged online following, and builds authentic friendships. She finally feels seen for who she really is. Success! . . . But can Lilian trust everything Eleven says? This compelling, heartfelt satire asks us: How do we recognize authenticity when storytelling and magic have been co-opted by marketing?
SARAH SELECKY's breakout debut collection, This Cake Is for the Party, was a finalist for the Scotiabank Giller Prize, was shortlisted for the Commonwealth Writers' Prize for Best First Book, and was longlisted for the Frank O'Connor International Short Story Award. Her stories have been published in The Walrus, Elle Canada, The New Quarterly, and The Journey Prize anthology, among other publications. She is also the founder of the Sarah Selecky Writing School.
Share: