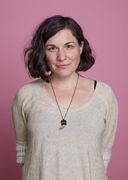 We're proud to welcome the indomitable Christa Couture to Transatlantic Agency!
Christa is an award-winning performing and recording artist, a non-fiction writer, and broadcaster. She is also proudly Indigenous (Cree), disabled, queer, and a mom. As a storyteller, she has addressed audiences for CBC's DNTO, Moses Znaimer's conference ideacity, and Imaginate in Port Hope, Ontario, and as a writer has been published in Room, Shameless, and Augur magazines, and on CBC.ca. As a musician, her fourth album Long Time Leaving was released in 2016 and nominated for Best Folk Album at the year's Indigenous Music Awards. Before that, 2012's The Living Record made Best-of-the-Year lists at CBC Music, Radio Regent and the Georgia Straight, which also chose the album to represent 2012 in their "50 Albums That Shaped Vancouver". She is a frequent contributor to CBC's Now or Never and The Next Chapter and the weekend morning host on 106.5 ELMNT FM in Toronto.
Christa is working on a memoir about grief and resilience – her infant son's heart transplant, his death, his brother's single day of life, the amputation of her leg as a cure for bone cancer, abortion, divorce, and a move across the country to start over after it all.
Christa is represented by Stephanie Sinclair.
Share: