We're proud to announce that both HOMES (Freehand Books 2018) by Abu Bakr al Rabeeah with Winnie Yeung, and CORVUS (Thistledown Press 2015) by Harold Johnson, have been longlisted for Canada Reads 2019.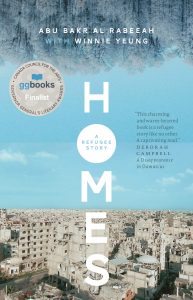 HOMES is a "heartbreaking, hopeful and urgently necessary book that provides a window into understanding Syria," and was a finalist for the 2018 Governor General's Literary Award for nonfiction.
CORVUS "examines the illusions of security we build through technology and presents a scathing satire of a world caught up in climate change denial and the glorification of war," and was shortlisted for the 2016 Saskatchewan Book Award for Aboriginal Peoples' Writing.
This year's list is centered on the theme One Book to Move You. "Spanning separations and reconciliations, wars of the past and present, personal histories and imagined futures, these titles will disturb and disrupt, inspire and incite, and move readers to feel, to think and to act." Each chosen book has been championed by a celebrity, and the final five books and their champions will be revealed January 31, 2019.
For more information on Canada Reads 2019 and to see the full longlist, please follow this link: https://www.cbc.ca/books/here-is-the-canada-reads-2019-longlist-1.4969716
Best of luck to all the longlisted authors!
Share: