Samantha Haywood, President of Transatlantic Agency is pleased to announce that Brenna English-Loeb has joined Transatlantic Agency as Assistant Agent. Brenna will be working closely with Samantha Haywood, Amy Tompkins and other senior agents with whom she will be coagenting new author clients of both adult fiction, nonfiction and YA. (See below for further details on her mandates.) Based in New York, Brenna began her publishing career as an intern with Writers House, before working for several years at Janklow & Nesbit Associates.
Says Haywood, "I am absolutely delighted to have Brenna join the agency as we continue to grow and develop our adult and YA list of exciting American author clients."
Says English-Loeb, "After four great years at Janklow & Nesbit, I'm so excited to join Transatlantic where I'll be taking on new challenges and growing my list with the help and expertise of Samantha Haywood and her innovative team. The collaborative, forward-thinking mindset at Transatlantic is the ideal setting for any agent, and I'm thrilled to be a part of it as I work to support and promote my clients."
Brenna English-Loeb 
Raised on an eclectic blend of Jane Austen, Terry Pratchett and Ursula K Le Guin, Brenna has always gravitated to unique stories with a strong point of view. She is specifically looking for works of YA and adult science fiction, fantasy, and suspense, as well as some adult literary fiction. She loves space operas, myth and fairy tale retellings, survival stories, epistolary novels, and heists. She also has a soft spot for stories that blend multiple genres and for works by and about underrepresented groups and identities. For nonfiction, Brenna is looking for serious, groundbreaking sociological work that holds our culture up to the magnifying glass. She also loves accounts of historical events and people that deserve to be better known, as well as unusual and influential object histories. Brenna can now be reached at: brenna@transatlanticagency.com.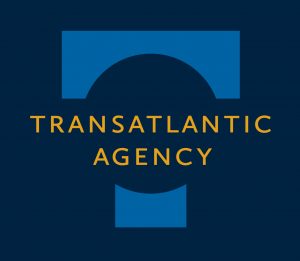 Transatlantic Agency is a North American, full-service literary agency specializing in career management for writers and illustrators, covering domestic and international rights, speaking engagements, film/tv and content development, covering the spectrum of commercial to literary fiction and nonfiction of all types and for all ages. Transatlantic is recognized in the industry for integrity, passion and commitment throughout an author's career. Transatlantic has 16 agents located across North America, with US agents in New York, Boston, and Portland OR, and Canadian agents in Toronto, Vancouver and Nova Scotia. Founded 25 years ago by literary agents David and Lynn Bennett and now headed by Samantha Haywood, the Transatlantic partnership is a vibrant collective of tenacious, independent professionals with diverse backgrounds and specialties. We represent more than 500 clients, who make regular appearances on notable bestseller lists across North America and have won major awards such as the Newbery Medal (US), the Giller Prize (Canada), Michael L. Printz Honor Book (US), and the Governor General's Award for both adult and children's literature (Canada).
Share: