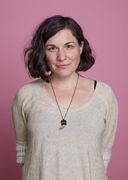 Douglas & McIntyre has acquired North American English rights to writer and musician Christa Couture's debut nonfiction book, How to Lose Everything, with publication tentatively planned for Fall 2020.
How to Lose Everything is a memoir that connects sorrow, despair, reprieve, and hard-won hope, a frank revealing of the emotional and psychological experiences of motherhood, partnership, and change. Through her son's heart transplant, his death, his brother's single day of life, the amputation of her leg as a cure for bone cancer, abortion, divorce, and a move across the country to start over after it all, Christa Couture has come to know every corner of grief — its shifting blurry edges, its traps, its pulse of love at the centre, and its bittersweet truth that resilience is borne of suffering.
Over the years, Christa has been telling her stories in songs. Through four albums and touring Canada and Europe, she has sought further ways to create and connect; to be heard. The songs led to blog posts and story telling and essays and now to this book: finally, one place for the whole, true story. Prairie-raised, Christa spent 17 years in Vancouver and now calls Toronto home. She is also proudly Indigenous (mixed Cree and Scandinavian), queer, and a mom.
The deal was arranged by Stephanie Sinclair.
Share: