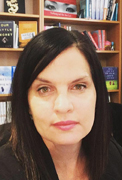 Transatlantic Agency is pleased to announce that Senior Literary Agent Carolyn Forde is now representing UK publisher Legend Press.
Legend Press is an independent publishing company founded in 2005 and based in London, UK. In the last few years Legend has been the fastest growing press in the UK (doubling their list since 2017), earning major prize listings, achieving a tripling of print sales and garnering fantastic reviews. Backed by an international sales, licensing and acquisitions network, it now publishes around 70 titles per year in the areas of literary, women's, historical and crime fiction.
Carolyn will be selling select titles into the US and Canadian markets with a focus on Legend's women's fiction and crime titles. Carolyn can be reached at carolyn@transatlanticagency.com.
Transatlantic Agency is a North American, full-service literary agency specializing in career management for writers and illustrators, covering domestic and international rights, speaking engagements, film/tv and content development, covering the spectrum of commercial to literary fiction and nonfiction of all types and for all ages. Transatlantic is recognized in the industry for integrity, passion and commitment throughout an author's career. Transatlantic has 16 agents located across North America, with US agents in New York, Boston, and Portland OR, and Canadian agents in Toronto, Vancouver and Nova Scotia. Founded 25 years ago by literary agents David and Lynn Bennett and now headed by Samantha Haywood, the Transatlantic partnership is a vibrant collective of tenacious, independent professionals with diverse backgrounds and specialties. We represent more than 500 clients, who make regular appearances on notable bestseller lists across North America and have won major awards such as the Newbery Medal (US), the Giller Prize (Canada), Michael L. Printz Honor Book (US), and the Governor General's Award for both adult and children's literature (Canada).
Share: