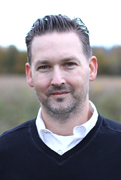 TLA is pleased to welcome Timothy S. Johnston!
Timothy S. Johnston is the award-winning writer of The War Beneath, The Furnace, The Freezer, and The Void. The Furnace won the 2015 CYGNUS Award in the "Science Fiction Thriller" Category, was shortlisted for the 2015 Science Fiction EPIC Award, and all three books in The Tanner Sequence won the 2015 CLUE Award for Thriller/Suspense Novel in the "Blended Genre" category. The Freezer won the 2016 Science Fiction Epic Award and was shortlisted for the 2015 CYGNUS Award. The Void was shortlisted for the 2016 Science Fiction EPIC Award. In 2016, Timothy S. Johnston signed with ChiZine Publications to publish a brand new series, The Rise of Oceania. Set underwater in the near future amidst the espionage, intrigue, and action of a Second Cold War rapidly turning hot, the thrillers are The War Beneath, The Savage Deeps, and Fatal Depth. The War Beneath was a Semi-Finalist for both the 2018 GLOBAL THRILLER and the CLUE Awards. Timothy S. Johnston is a member of International Thriller Writers, SF Canada, Crime Writers of Canada, and the Canadian Science Fiction and Fantasy Association. He is dedicated to the craft of writing thrilling page-turners infused with technology and science, and he loves speaking about thrillers, science fiction, mystery, and horror.
Visit his website at www.timothysjohnston.com to learn more about his writing as well as read reviews, news about upcoming books, and information about public appearances.
Share: