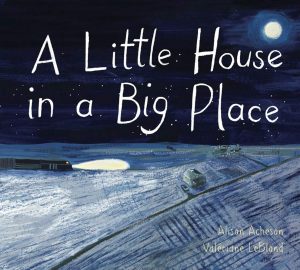 Happy book birthday to A LITTLE HOUSE IN A BIG PLACE by Alison Acheson and illustrated by Valeriane Leblond, out today from Kids Can Press!
"… entirely pleasurable." ―Kirkus Reviews
Every day, in a little house in a little town in the middle of a big place, a girl stands at her window and waves to the engineer of the train that passes on the nearby tracks. The engineer waves back and his wave and her wave together make a home in her heart. The little girl is curious about the engineer, about where he came from and where he goes. Which makes her wonder if she might go away, too, some day. This beautiful free verse picture book explores the magic of a connection made between strangers, while also pondering the idea of growing up, and what might lie beyond a child's own small piece of the world.
Alison Acheson is the author of several books for various ages, from picture books to short fiction for adults. She teaches Writing for Children and Young Adults in the MFA program at the University of British Columbia. Alison lives in Vancouver, British Columbia.
Share: