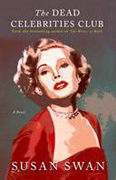 THE DEAD CELEBRITIES CLUB by Susan Swan, out now from Cormorant Books, is already garnering great praise!
A Globe and Mail Books in Bloom Selection
"Susan Swan's salacious new novel, THE DEAD CELEBRITIES CLUB, is a tale of greed, hubris and fraud–and the fallout that follows. In other words, it's a financial fable worthy of the age." -The Globe and Mail
"Susan Swan's new protagonist, Dale Paul, is a self-obsessed hedge fund guy with a poncy way of speaking and a penchant for playing fast and loose with other people's money. Yes, he's terrible but he's also a terrific character and the reason you will want to keep turning the pages on Swan's latest novel, THE DEAD CELEBRITIES CLUB."
-Post Media
"A must read for the dead pool generation." -KJ Mullin, Nwz4u.ca
A timely novel about the hedge fund whale, Dale Paul, a witty, self-absorbed rogue and raconteur. Charm and boarding school connections to billionaire media personality Earl Lindquist aren't sufficient for Dale Paul to avoid being sent to an upstate New York white collar jail on multiple counts of fraud for gambling away US military pensions. Promising himself to earn back his son's previously gambled inheritance, Dale Paul dreams up an illegal lottery for his fellow inmates based on the death of old and frail celebrities. Disgraced and for once in his life, penniless, Dale Paul's relationships with his family deteriorate while he works on his scheme to make himself rich again. Win or lose, Dale Paul goes through a sea change that may (or may not) make a new man of him. But will the enterprising gambler get caught in his own con?
If you're interested in joining your own Dead Pool, Swan is running one on her facebook page for the characters in Game of Thrones: https://www.facebook.com/susanswanonline/
Susan Swan is the author of author of eight books of fiction, including The Biggest Modern Woman of the World, which was nominated for both the Governor General's Literary Award and the Books in Canada First Novel Award; the internationally best-selling Wives of Bath; and The Western Light, selected as one of the top ten novels of its year by the Ontario Library Association. Born in Midland, Ontario, she attended McGill University, was professor at York University, and chair of The Writers' Union of Canada. She lives in Toronto with her husband, Patrick Crean.
Share: