The nominees for the 2020 Manitoba Young Readers Choice Awards have been announced and we're congratulating two Transatlantic authors for being nominated!
Eric Walters' ELEPHANT SECRET (Penguin Random House Canada) is nominated for the Sundogs award and Heather Smith's EBB & FLOW (Kids Can Press) is nominated for the Northern Lights award.
These annual awards honour quality books with wide readership appeal, and the nominated books are selected by young readers.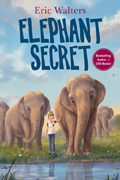 For more information on the awards and a full list of nominees, please visit http://www.myrca.ca.
Share: