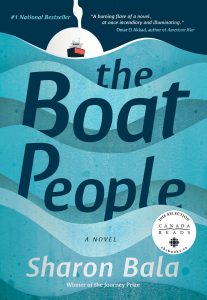 Congratulations to Sharon Bala, who has just been named a finalist for 2019 Harper Lee Prize for Legal Fiction for her highly-acclaimed debut novel, THE BOAT PEOPLE!
This annual award celebrates a work of fiction that best illuminates the role of lawyers in society and their power to effect change.
The winner will be selected by a Selection Committee with an opportunity for the public to serve as a 6th committee member by voting for their favourite here: www.abajournal.com/polls/2019HarperLeePrize
"This year's Harper Lee Prize was particularly difficult to judge," said Molly McDonough, editor and publisher of the ABA Journal. "We were evaluating so many gripping and compelling reads. The finalists represent the diversity of this year's submissions, from a novel about Sri Lankan refugees seeking a new start, to the story of a trailblazing woman lawyer fighting for her clients in 1920s India, and, finally, a charming middle school book featuring a spunky student who goes to court after he's suspended for protesting homework. The characters are as inspiring as they are engaging."
The winner will be announced on August 29th. For more information about the award and a full list of finalists, please visit, www.ua.edu/finalists-for-harper-lee-prize.
Share: