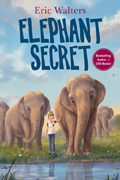 Congratulations to Eric Walters' ELEPHANT SECRET (Clarion), which has been shortlisted for this year's Sunshine State Young Readers Award (SSYRA) Program!
The SSYRA is a statewide reading motivational program and the Sunshine State books are selected for their wide appeal, literary value, varied genres, curriculum connections, and/or multicultural representation.
For more information about the award and a full list of shortlisted titles, please visit www.floridamediaed.org/ssyra.
Share: